---
About Dale and Dawn Streeter

Dale and Dawn Streeter are north country natives who have lived in the Gouverneur, New York area since 1973. Both are retired teachers from the Gouverneur Central School District. They have been blessed with four beautiful daughters: twins Julia and Janeen, Bethany, and Laurel. Granddaughter Annika was born in May of 2009. They spend much of the summer at their cottage on Pillar Point.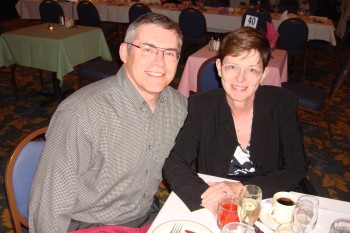 Dale was originally from the Carthage/Beaver Falls area. He taught middle and high school art at Gouverneur for thirty two years, retiring in 2006. He was the MS/HS Art Club Advisor for much of his teaching career. Dale has served as a Councilman for the Town of Macomb and was a 4-H leader for many years. He is also a member and Elder of the Brasie Corners Community Church. He currently serves as Vice-President of the Macomb Historical Association.
Dawn is a Watertown, New York native and taught third grade in the Gouverneur Central School District for thirty three years, also retiring in 2006. While teaching, Dawn was responsible for the development of the Odyssey of the Mind program at Gouverneur. Dawn is also a member and Elder of the Brasie Corners Community Church and serves as Secretary/Treasurer for the church.
Retirement has allowed them to continue to serve the community and pursue hobbies and other recreational interests. They have joined the Gouverneur Kiwanis Club where Dawn is treasurer and Dale served as president from October of 2009 until March of 2010. Dale continues to draw and paint with wildlife as a primary subject. He also makes custom belt buckles in wood and leather. In the early 1980s Dale became involved in taxidermy, with support and guidance from his close friend Lyle Hotis. Today his taxidermy "hobby" has become a viable small business enterprise. Dale also enjoys music and plays guitar, bass, violin and mandolin. Since 1970 he has been a member of the Adirondack Playboys country band playing both bass and rhythm guitar. Dale has done minor repair to instruments for years and recently began to custom build electric instruments such as violins, a mandolin, guitar and bass guitar. Dale looks forward to building more instruments and continue his participation in the family band. Dawn, creative and talented in her own pursuits, made baskets for a period of time. She has also created beautiful quilled flower designs and has enjoyed making seasonal silk wreathes and floral centerpieces. Her first love, however, is sewing. She has created a number of quilts, requiring countless hours of work. She is a member of two local quilt guilds and has recently completed some specialized sewing projects such as tote bags and quilted purses.
---